When it's time for your next mammogram, remind a friend to schedule, too. It will be a true act of friendship.
Mammography and early detection are powerful resources in our fight against breast cancer. So go ahead and call now; you can schedule your mammogram months in advance. It's too important to delay. And remind a friend to do the same.
Make your mammogram appointment at any of our diagnostic centers by phone: 757-989-8830 or 800-675-6368 and press option two.
To schedule a mammogram on the Eastern Shore call 757-302-2102, or use the Schedule a Mammogram option in MyChart.
Riverside Mammography Locations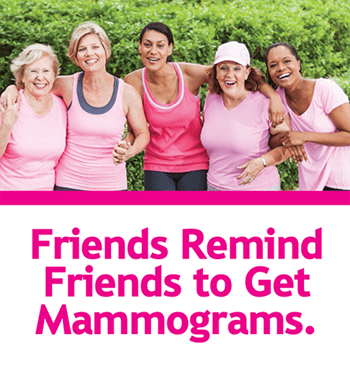 Riverside Diagnostic & Breast Imaging Center - Oyster Point
895 City Center Boulevard (formerly Middle Ground Boulevard),
Suite 104
Newport News, VA 23606
Breast Imaging Center of Excellence
Riverside Diagnostic Center - Hampton
850 Enterprise Parkway, Suite 1500
Hampton, VA 23666
Riverside Diagnostic Center - Williamsburg
120 Kings Way, Suite 1200
Williamsburg, VA 23185
Breast Imaging Center of Excellence
Riverside Walter Reed Hospital
7519 Hospital Drive
Gloucester, VA 23061
Breast Imaging Center of Excellence
Riverside Shore Memorial Hospital
20480 Market St.
Onancock, VA 23417
Riverside Shore Medical Center at Metompkin
17385 Lankford Highway
Parksley, VA 23421
About Breast Imaging Centers of Excellence
Our Riverside Diagnostic Centers in Oyster Point, Williamsburg and at Riverside Walter Reed Hospital are "Breast Imaging Centers of Excellence." This designation is given only to top programs; there are only 30 BCE's in the Commonwealth of Virginia.
The breast imaging services at each of these locations are fully accredited in:
Mammography,
Stereotactic Breast Biopsy,
Breast Ultrasound and
Ultrasound-Guided Breast Biopsies.
And the American College of Radiology has recognized our high practice standards in image quality, personnel qualifications, facility equipment, quality control procedures and quality assurance programs.
Riverside's physician specialists interpret highly detailed digital images quickly and consult electronically with your primary care physician through one of the nation's most advanced electronic medical records.