Donate to the Brandon D. Rogers Simulation Lab.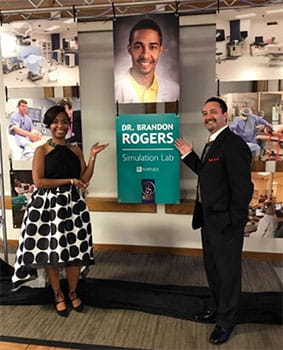 The Huntington Ingalls Industries Education and Simulation Training Center at Riverside epitomizes the future of health care in our community for patients, physicians, nurses and medical technicians.
At the core of the Center will be the Dr. Brandon Rogers Simulation Lab, named in memory of an exceptional physician and singer who was from Portsmouth and a resident in the Riverside Family Medicine Program at the time of his death in the summer of 2017. Simulation instrumentation and virtual reality tools housed here will enable clinicians to maintain and frequently update skills to better care for our patients.
Finally, the Center will help attract new physicians to the medical residency programs housed within Riverside. These residents join us for between one and four years as a critical part of their clinical training, and often stay to practice as part of our medical community. The ability and discipline to train within a setting such as this is reflective of the Riverside Mission – to care for others as we would care for those we love.
Medical training and safety
Active methodologies vs. passive learning. Sim labs maximize three important health care training elements: Cognitive, Psychomotor (physical skills, muscle memory) and Affective (attitude, emotion).
Repetition of procedures, introduction of variables and reflection of actions can be taken without patient exposure to possible human error.
Bedside ultrasound, robotic surgery and noninvasive surgical techniques are continuously changing the delivery of health care. Specialized populations, such as children, require specific emphasis to maintain proficiencies.
Medical staff are often placed in the position of infrequently performing high risk procedures (central lines, chest tubes) in daily practice; simulation aids in the maintaining of skills. Team training leads to increased efficiency, effectiveness, and communication skills amongst different skill levels
Resources and technology
The Huntington Ingalls Industries Education & Training Center at Riverside will house the simulation lab along with classroom space, a resident study lounge, library and laboratories.
Interactive medical manikins are extremely lifelike.
Come in various sizes, genders and ethnicities and can be used to perform a wide range of procedures (basics to highly complex)
Will simulate heart, lung and bowel sounds and utter basic words and phrases
Advanced models can sweat, cry, bleed, convulse and speak phrases and sounds
Lifelike reactions are vital in reinforcing student learning via practical application
For more information about how you can help bring this valuable resource to our community, please contact the Riverside Foundation at 757-234-8740 or [email protected].
Related: