What is Magnet Recognition?
The American Nurses Credentialing Center (ANCC) developed the Magnet Model, recognized as the gold standard of nursing excellence. Healthcare organizations that meet the significant criteria of nursing excellence and successful nursing practices and strategies to deliver safe, high-quality patient care are recognized as achieving Magnet status. Based on nursing excellence, nursing-led initiatives and measurement of patient care outcomes-based achievements, Riverside Regional Medical Center is on a Magnet journey to achieve this noteworthy designation.
Through our journey to achieve Magnet status, we will continue to strengthen and improve the quality, safety and service of our patients. This will be accomplished by continuing to advance nursing standards, fostering a collaborative culture and advancing the organization's reputation for quality care excellence.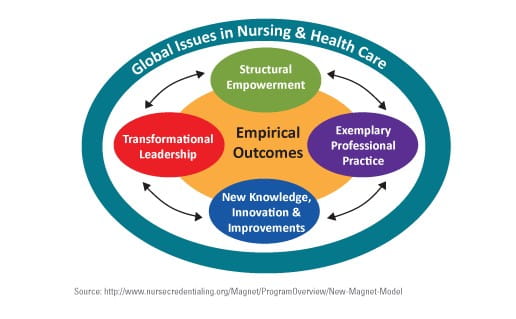 The Riverside Health System Professional Practice Model (PPM)
Identifies the foundations and defines professional nursing practice components across the health system. The PPM integrates Riverside's mission, vision, values, and nursing philosophy to guide professional nursing practice in delivering high-quality care to all those served across the health system.
The tree symbolizes life, strength, adaptability, and growth. Each part of the tree represents a different part of professional nursing practice at Riverside Health System. The color green has been known to symbolize health, renewal, and safety. This color is strongly represented throughout our health system.
The Roots:
A tree grows from the roots up. Strong, well-secured roots allow the tree to flourish. It is also the part of the tree hidden from plain sight, but possibly the most critical part of the tree. The core values of professional nursing practice at Riverside are found in the roots of our tree. Integrity, leadership, professional development, mentoring, and shared governance help to give nurses across the health system a strong foundation.
The Trunk:
As a tree grows, the trunk brings stability, strength, and presence. Riverside's mission "to care for others as we would care for those we love" is shown in the heart at the center of the trunk. Caring is the center of our professional nursing practice at Riverside Health System.
The Branches and Leaves:
A healthy tree has many branches and leaves that allow the tree to stand out and continue to grow. The colored grouping of leaves illustrates essential aspects of professional nursing practice as related to the branch component. The branches and leaves, collectively, form the canopy of the tree, which signifies a comforting canopy of care for the people and communities we serve.

Riverside Health System is Committed to Quality and Safety for Clinical Excellence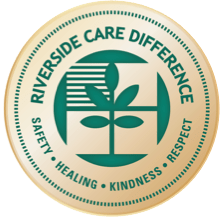 With a commitment to continuous quality and safety improvements, the Riverside Health System works collaboratively across nursing and all clinical disciplines to achieve the very best in clinical care. In 2018, our teams developed a composite score of healthcare-associated infections (HAIs) and patient safety indicators (PSIs) as a baseline for continuous improvements in care delivery. In the first two years, every Riverside acute care facility showed improvement for a significant 38.36% system-wide improvement.
Riverside nurses are carefully selected for their empathy, ethics and clinical skills. Each is committed to our mission of caring for others as we would care for those we love.
Working Here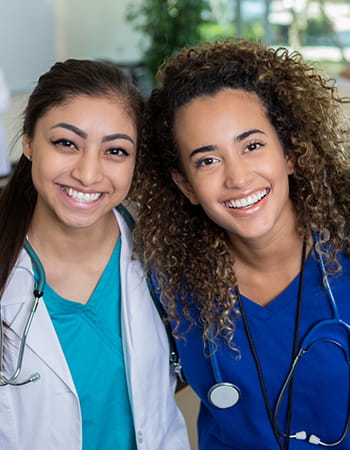 At Riverside Health System, we use
nursing shared governance
between direct-care nurses and nursing leaders to provide open communications for continuous improvement. Through forum-based collaborations, our teams review and improve nursing research and evidence-based practice (EBP) projects, professional development, mentorship and professional practices. Nursing Shared Governance is a pillar of our ANCC Magnet journey, including the following nurse-led councils:
We seek opportunities to help our nurses attain professional advancement with a Shared Governance Model designed to provide Structural Empowerment through our Professional Development and Practice Council.
Click here to learn more
Encompasses New Knowledge, Innovations and Improvements components and is designed to support nursing with the implementation and dissemination of evidence-based practice as well as mentoring staff to understand, evaluate and conduct nursing research.
Encompasses Structural Empowerment components and is composed of mostly direct-care nursing "champions" designated throughout the organization to promote and communicate our Magnet journey. Promote commitment to enhancing our Magnet culture and environment, enabling us to achieve benchmarked standards in our professional nursing practice. Work collaboratively with an inter-professional team to support our organization's strategic goals and to achieve and sustain designation as a Magnet hospital.
Is committed to improving and advancing nursing practice through the structures that comprise the shared governance model. Providing strategic and operational direction for the Division of Nursing and enhances the practice of professional nursing.
Encompasses components of Transformational Leadership and is a critical component and foundation to support nursing excellence through evidence-based practice, quality, fundamental researchand education to deliver safe and positive patient outcomes. Ensures adequate staff support while maintaining fiscal, equipment and human resource responsibilities. This central council is responsible for the coordination of various council activities focusing on achieving outcomes in the areas of nursing service, EBP and research, education, relationship management, nursing excellence, information technology and nursing quality.
Encompasses Exemplary Professional Practice components and coordinates and implements performance improvement activities to improve care and promote service excellence.
Encompasses Structural Empowerment components and consists of an inter-professional team, including direct care nurses, clinical nurse specialist, directors, managers and non-nursing members.
We provide expansive nursing leadership opportunities - and mentors to guide new staff along the way to realize their personal goals and career objectives. Based on these programs and strategic paths to excellence, the American Nursing Credentialing Center (ANCC) has designated all Riverside Health System hospitals with the Pathway to Excellence designation.
These Riverside nursing-based councils advocate and influence positive changes in processes by reviewing quality data and achieving improvements across a range of areas, including:
Champion nursing excellence
Education
Evidence-based practice and research
Nursing excellence information technology
Nursing quality and safety
Nursing services
Planning and development of professional nursing practice
Relationship management
Staffing support and resource allocation
Strategic oversight and operational direction
Designed to promote and support unit-based initiatives, including support and enhance Nursing engagement and inter-professional development, delivery of initiatives to enhance the professional practice environment, incorporate and evaluate evidence based practice with efforts to improve patient experience and outcomes and incorporate and lead evidenced based initiatives to create a health and successful work environments.
Search for a job
Nurses at Riverside have nearly unlimited opportunities to grow professionally. If you value diversity, teamwork and respect — and caring is at the heart of your nursing practice — please consider joining our team.