To schedule a campus tour, please reach out to Admissions at 757-240-2200 or [email protected].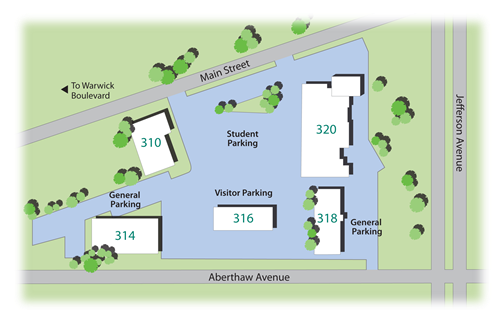 Building 316 houses the College's administrative and faculty offices, as well as the support services staff.
Building 318 contains the nursing, surgical technology and radiologic technology clinical skills laboratories, CR 200, and a fitness room.
Building 320 contains numerous classrooms, a computer lab, a nurse aide classroom and laboratory, the Recovery Room student lounge, meeting rooms, and the anatomy skills laboratory.
Building 310 contains the Ruby Pope Drumm Health Sciences Library and Alumni Room, multiple computer labs, CR 300 and the Treehouse Café student lounge.
Building 314 contains a skills laboratory for the Physical Therapist Assistant Program, a classroom, CR 400 and a conference room.
Parking
There is ample decal only parking centrally located on the College campus and campus parking and buildings are handicap accessible. The College assumes no responsibility for student vehicles.
Campus Safety & Security
The College provides a safe and secure environment conducive to learning. Building access on the main campus is controlled by swipe badge entry by using Riverside issued identification badges. All students and employees are issued identification badges and they must be worn at all time while on campus. Students also receive training on security procedures and practices on campus as well as the services offered by Riverside Protection Officers. Exercises designed to test the College's emergency procedures and preparedness are conducted at least twice annually in the form of fire or lockdown exercises. Each spring, an announced tornado drill is also conducted.
Riverside Health System Protection Officers provide a visible security presence on the College campus. They patrol campus properties to deter inappropriate and illegal activities. RHS Protection Officers patrol the main campus during evening and weekend classes and are available during daytime hours as needed. RHS Protection is housed at Riverside Regional Medical Center may be contacted at 757-594-2208.
College Leadership maintains a close working relationship with the Newport News Police Department. College officials and Newport News Police communicate on the scene of incidents that occur in and around the campus area. College officials and Newport News Police Investigators work closely when incidents arise that require joint investigative efforts, resources, crime-related reports, and exchanges of information, as deemed necessary.
In compliance with the Higher Education Act of 1965 as amended and §23-9.2:11 of the Code of Virginia, the College has implemented a comprehensive Emergency Notification System. This notification system allows the prompt disclosure of information about crimes on and/or near the campus that may pose an ongoing threat to the College community. Inclement Weather Announcements, including campus closure or delay, will also be disseminated through the College's emergency notification system
Tobacco- and Drug-Free Environment
The College is a tobacco-free environment. Tobacco, smokeless tobacco and nicotine delivery products (e-cigarettes, vapes, etc.) are not permitted anywhere on the campus, including sidewalks and parking lots.
The College is committed to working against the illicit use of drugs and alcohol among students and employees and the campus has been designated "drug-free". Unauthorized possession, manufacture, sale, distribution, or use of any controlled substance is illegal under both state and federal laws. Such laws are strictly enforced and violators will be subject to College disciplinary action up to and including dismissal or termination, criminal prosecution, fine and/or imprisonment. In a good faith effort to comply with the federal and state regulations regarding the abuse of controlled substances including the Drug-Free Schools and Communities Act of 1989 and laws of the Commonwealth of Virginia, the College informs all employees and students at the beginning of each academic year that the unlawful manufacture, possession, use, or distribution of illegal drugs (including inhalants) and alcohol on the property of the College, or as part of any College activity, is prohibited. Being under the influence or having identifiable trace quantities of illegal or unauthorized drugs or alcohol in their system while on College property, in class, lab or at an RHS or non-RHS clinical facility is strictly prohibited.
Laboratories
Learning resources are available in all of the skills laboratories to meet program needs. Skills laboratories include: nursing (2), radiologic technology (2), surgical technology (1), physical therapist assistant (1), anatomy lab (1), and simulation labs (1). There is one three-bed nurse aide skills laboratory on the Newport News campus. These skills laboratories provide an area for student practice and receive skills performance evaluations under faculty supervision. Open laboratory hours are available in some skills laboratories and upon request. Laboratory equipment is in good working order and is maintained on an ongoing basis by Riverside Regional Medical Center Biomed Department, Laerdal, and Hill-Rom.
Library
The Ruby Pope Drumm Health Sciences Library's collection contains over 5,000 books, 200 print journals, and has access to over 4,000 online journals and 100 eBooks as nursing, medical and allied health learning resources. Audiovisual and electronic resources are also available. The OVID database offers access to 81 Lippincott journals in nursing and clinical and essential hospital collections. Online access to Pubmed and The Cumulative Index to Nursing and Allied Health Literature (CINAHL) is provided and there is a spacious media center for students, faculty, physicians, and other health system personnel. The students can also take study breaks and socialize while watching the big screen television in the Treehouse Café. The library computer learning lab provides numerous computers with instructional programs focused on nursing and allied health skills and is open for student use during posted library operating hours.