On-Site Medical Services
From questions about symptoms to immediate first-aid care, the Warwick Forest Wellness Clinic is available to all neighbors regardless of their primary care physician. Directed by our very own full-time, on-site, board-certified Geriatrician, the Clinic provides convenient, comprehensive primary care services.
Some of these services include:
Annual wellness visits
Flu shots
Prescriptions & medication management
Routine check-ups and screenings
Laboratory services
Vaccinations and other injections
Blood pressure checks
Wound care
Primary care visits
Suture removal
Nebulizer treatments
Assistance with scheduling diagnostic tests off campus
Drug prescription delivery services from approved pharmacies
And should you ever need them, Warwick Forest also includes specialty health care services all on one campus including Assisted Living, Rehabilitation, Continuous Care and Memory Care.
Meet Our Providers
Emmeline Gasink, MD 

Dr. Gasink serves as the full-time Medical Director for the entire Warwick Forest campus. In this capacity, she leads the clinical development and medical direction for Independent Living and Assisted Living, as well as working closely with our current dedicated team of providers while leading the medical direction for our memory care unit and long-term care residents at The Gardens at Warwick Forest.
Dr. Gasink completed medical school at Eastern Virginia Medical School and her residency at the Riverside Family Medicine Residency in Newport News, Virginia. She is American Board-Certified in Family Medicine and has significant experience working with continuing care retirement communities. Most recently she spent three years as Medical Director of Williamsburg Landing.
Dr. Gasink also serves as a Primary Care Physician for those residents who select her, and she follows them through the continuum of care even if needs change over time. This allows Dr. Gasink the unique opportunity to learn each person's health history, habits, and personality so that she can more easily recognize signs that may indicate a potential change in health as well as provide individualized care.
Jessica Coleman, DO 

Dr. Coleman currently serves as the Medical Director for The Gardens at Warwick Forest. She joined the Riverside team in September of this year. Dr. Coleman specializes in Family Medicine with a holistic focus on geriatrics. In her role at TheGardens, she leads the care for residents and guests across the nursing facility. She also serves as primary care physician for residents in other levels of care throughout the Warwick Forest campus.

Dr. Coleman completed her residency and Geriatric Medicine fellowship at Summa Health System in Akron, Ohio, where she was a recipient of the Family Medicine Center Paramedical Staff Outstanding Resident award. She is extremely passionate about caring for the older adult population, and is excited to be part of the Riverside mission of caring for others as we would care for those we love. 

Anthony Caterine, MD 

Dr. Caterine is a Geriatric Psychiatrist with Riverside's Lifelong Health Division. Dr. Caterine treats patients at Riverside facilities across the region, including patients at The Gardens on the campus of Warwick Forest. He earned his degree in psychiatry at Loyola University of Chicago, Stritch School of Medicine, and completed his residency at the University of Florida College of Medicine.
Dr. Caterine's areas of specialty include geriatrics and the treatment of patients with severe medical and psychiatric illnesses. He chose to pursue a career in psychiatry because he enjoys working with people and helping them stay in control of their mental illnesses. In his free time he spends as much time outdoors as possible, often going mountain biking and rollerblading with his family.
Jonathan Hall, PA-C 

Jonathan Hall is a Physician Assistant in the Geriatric Psychology division. Jonathan received his Master of Health Science Degree in Physician Assisting at South College and enjoys working in the Hampton Roads area.
Jonathan works directly with Dr. Caterine to treat patients at The Gardens and across the region. His areas of focus include Alzheimer's Disease, Dementia, Psychosis, Psychopharmacology, and Social Psychology. In his free time he enjoys spending time with his wife and children.
Atoosa Purveyor, NP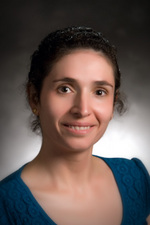 Atoosa is a Nurse Practitioner for The Gardens on the campus of Warwick Forest and specializes in geriatrics, IV therapy, and telemedicine. Her philosophy is to treat others as you would want to be treated. She truly enjoys working with older adults, and chose her specialty because she believes in helping the people who need it most.