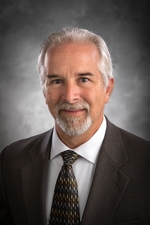 William Webb, BSN, RN, Program Director
William retired from the United States Navy in 2007 after serving 20 years as an electronics technician and Navy diver aboard nuclear-powered submarines. He received his nursing degree from the Sentara School of Health Professions in 2009 and his Bachelor of Science in nursing in 2011 from Virginia Commonwealth University. William's career path began with three years on a medical-surgical/neurology telemetry unit at Sentara Virginia Beach General Hospital before his move to Bon Secours, where he became the clinical nurse manager of a 20-bed neurology/stroke telemetry unit at Maryview Hospital. In 2016, he became director of Sentara Leigh Hospital's outpatient wound care clinic and later brought those talents to the outpatient wound care clinic at Riverside Regional Medical Center in 2019. William is excited to be working with hospital administration at Riverside and providing for the community's wound care needs.
Erin Grecu, BSN, RN, Clinical Coordinator
Erin earned a Bachelor of Science in nursing from Christopher Newport University in 2003. She spent the first three years of her nursing career in cardiology before becoming a home health nurse. During her seven years in home health, she developed a specialty interest in wound care and wound healing. Erin began working with Dr. Garrison in an outpatient wound clinic in 2013 and was excited to join his team at the Riverside Advanced Wound Care Center in 2019.
Barbara Harris, RN, WCC, DWC
Barbara graduated from Thomas Nelson Community College in 1990 with an associate degree in nursing. She started her nursing career at Riverside Regional Medical Center in the coronary care unit for three years. She spent the following 20 years working in home health before transitioning to the outpatient wound care setting in 2013. Barbara earned her wound care certification with the National Alliance of Wound Care in 2006 and her Diabetic Wound Certification in 2015.
Kelly Jordan, RN
Kelly graduated from Medical Careers Institute in 2011 with her associates degree. She spent 7 years specializing in the Cardiothoracic Surgical Intensive Care Unit. She is currently pursuing her bachelor's degree, and is excited about transitioning her focus on advanced wound care therapies.
Aurielle Ballard, Medical Assistant/Administrative Assistant
Aurielle became a certified nursing assistant in 2006 and went on to become a nursing care partner in 2010.She transitioned into the outpatient wound clinic in 2014 with Dr. Garrison. Aurielle joined our advanced wound care team at Riverside as a medical/administrative assistant in 2019 and is currently pursuing a degree in nursing at Norfolk State University. She is excited about becoming an advanced wound care nurse and serving our local Riverside community.
Alexis Jamison, Administrative Assistant
Alexis became a licensed nurse assistant in 1993 and worked with Piedmont Health Care in Charlottesville. She went on to become a certified medical administrative assistant, working as a receptionist with Charlottesville Family Medicine. In 2018 her talents led her to Resilience Health, LLC, where she worked as an administrative assistant before joining Riverside's advanced wound care team as an office assistant in 2020. Alexis is pursuing her bachelor's degree in business administration with Strayer University. She is excited to be part of our advanced wound care team and helping those in need of care.