Our Team
Natalie Barron, M.D.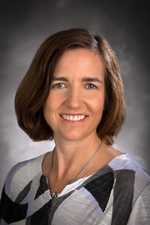 Dr. Barron earned a master's degree in public health from the University of South Carolina. After a career in occupational and environmental health, she completed her medical degree at Eastern Virginia Medical School in 1998, followed by family medicine residency training at Riverside Regional Medical Center in Newport News. Since then, Dr. Barron has remained with Riverside Health System for her entire medical career. She is board-certified by the American Board of Family Medicine.
Dr. Barron makes it a priority to be on time and efficient out of respect for her patients' time. Her interests focus on preventative health and promoting a healthy lifestyle with her patients as partners in those efforts. With experience across the breadth of family medicine, her areas of specialty include Nexplanon birth control and joint injections.
Amna H. Feroze, M.D.

Dr. Feroze earned her medical degree from King Edward Medical College in Pakistan in 1986. She completed a family medicine residency at the University of New Mexico Health Sciences Center in 2003. Dr. Feroze is board-certified by the American Board of Family Medicine.
An experienced primary care physician, Dr. Feroze chose her specialty with a desire to establish strong connections with her patients and their families. She finds it extremely gratifying to take care of patients in close conjunction with the rest of the family — and to care for multiple generations. With respect for her fellow human beings, Dr. Feroze feels a strong sense of empathy for her patients' emotional and physical struggles. She aims to work with patients as a team, sharing ideas and goals for the best possible outcomes.
Dr. Feroze enjoys caring for patients of all ages, from newborns to older adults, considering them as her own family members. She especially enjoys seeing her pediatric patients grow into young adults. Dr. Feroze's adult medicine practice includes treatment for complex medical conditions, with a special interest in endocrinological issues such as diabetes management. She also provides women's health procedures such as Pap test evaluation and Nexplanon contraceptive placement.
Pedro R. Villanueva, M.D.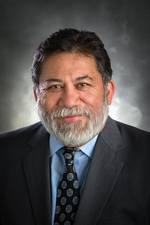 Dr. Villanueva earned his medical degree from the University of Honduras School of Medicine. He completed his training at Washington Hospital Center in Washington, D.C., with internships in general pathology and internal medicine followed by an internal medicine residency. Dr. Villanueva is board-certified by the American Board of Internal Medicine.
In practice for more than 20 years, Dr. Villanueva is an experienced primary care physician drawn to the breadth of internal medicine. With special interests in diabetes and hypertension, he is dedicated to helping all of his patients achieve their health goals.
Kimberly Maigi, FNP-C

A Certified Family Nurse Practitioner, Kimberly earned her Bachelor of Science in Nursing from Cox College of Nursing in Springfield, Missouri, and her Master of Science in Nursing from Missouri State University. She is board-certified by the American Academy of Nurse Practitioners.
With a diverse background that includes orthopedics, emergency medicine and cardiac medicine, Kimberly is equipped to provide well-rounded care to the entire family. She specializes in diabetes, nutrition and exercise, weight management, acute illness and orthopedics, including joint injections. Kimberly believes in building relationships with her patients to encourage healthy lifestyles as a top priority.