Our Team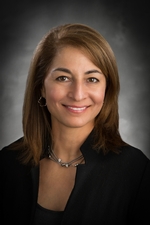 Lisa A. Casanova, M.D.
Dr. Casanova earned her medical degree from Brown University Medical School in Providence, Rhode Island. She completed residency training in obstetrics and gynecology at Northwestern University School of Medicine in Chicago. Dr. Casanova is board-certified by the American Board of Obstetrics and Gynecology. Additionally, she is a Certified Menopause Clinician by the North American Menopause Society.
In practice for more than 25 years, Dr. Casanova enjoys the variety of her work as an obstetrician and gynecologist. She equally loves the joy of delivering babies and caring for women throughout their lives. Dr. Casanova anticipates that the future of OB/GYN care will include an increase in minimally invasive surgery as well as genetically individualized medical treatment.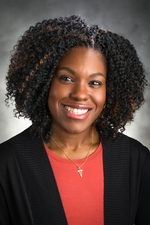 Monilla M. Dent, M.D.
After earning her medical degree from the Northeast Ohio University College of Medicine, Dr. Dent completed an OB/GYN residency at Michigan State University. She is board-certified by the American Board of Obstetrics and Gynecology.
Dr. Dent chose her medical specialty with a goal to help women with health issues throughout their lives, giving her the opportunity to develop lasting relationships with her patients. She enjoys the variety each day brings, from helping women achieve pregnancy to providing prenatal and delivery care to treating health issues that arise after having a family. With a medical philosophy centered on patient education and a teamwork approach, Dr. Dent sees her relationship with each patient as a partnership in which they work together to make good health choices. Dedicated to treating patients as family, she feels it is important to spend time getting to know each woman in her practice.
Dr. Dent's areas of specialty include laparoscopic and vaginal hysterectomy, endometrial ablation, and insertion of long-acting reversible contraception. Additionally, she has an interest in treating women experiencing sexual dysfunction. Patients with a wide range of conditions and concerns find Dr. Dent to be a caring, capable professional with their best health and well-being in mind.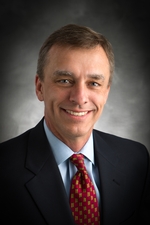 Jeffrey L. Henke, M.D. graduated from University of Kansas School of Medicine in Kansas City and completed his residency training at the University of Virginia in Charlottesville. He is board-certified by the American Board of Obstetrics and Gynecology. Dr. Henke is helping lead the way in cutting edge laparoscopic surgery.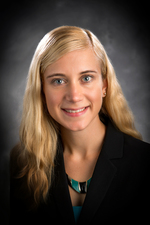 Elizabeth Lunsford, M.D. completed her undergraduate studies at Virginia Tech in Blacksburg and earned her medical degree from the Eastern Virginia Medical School in Norfolk. She completed her Obstetrics and Gynecology residency at the University of Texas Health Science Center where she was the recipient of the Gold Foundation Humanism and Excellence in Teaching Award for her commitment to teaching and compassionate treatment of patients, students, and colleagues. Lunsford, her husband and their daughter live in the Gloucester court house area.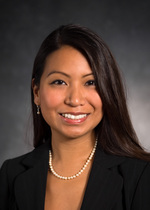 Diane A. Maddela, D.O.
Dr. Maddela earned her medical degree from Pikeville College School of Osteopathic Medicine in Kentucky, and then completed an OB/GYN residency at Grandview-Southview Hospital/Kettering Medical Center in Dayton, Ohio. She is board-certified by the American Osteopathic Board of Obstetrics & Gynecology.
An amazement at the various stages of a woman's life led Dr. Maddela's to practice obstetrics and gynecology. She considers it a privilege to help women through those stages, finding her work fascinating, enjoyable and rewarding.
Dr. Maddela's philosophy is to evaluate each patient individually, as a completely unique person. She practices a holistic approach on the premise that a patient's health is a reflection of her lifestyle, environment, genetics, medical history and spirituality.
With specialties in infertility and endocrine disorders, Dr. Maddela's attentive expertise covers a comprehensive spectrum of care for women of all ages.
A member of the American Osteopathic Association, American College of Obstetrics and Gynecology, and the American College of Osteopathic Obstetrics and Gynecology, Dr. Maddela speaks both English and Spanish.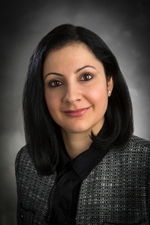 Darine Moukalled, M.D.
Dr. Moukalled completed her medical studies at Saint-Joseph University, Beirut, Lebanon. She continued her postgraduate training at the American University of Beirut, where she completed her training in Obstetrics and Gynecology. She then pursued a second residency at Eastern Virginia Medical School in Norfolk, Virginia. After completing residency, Dr. Moukalled decided to stay in the Tidewater area and joined Riverside Partners in Women's Health in September 2012.
Dr. Moukalled enjoys every field in this specialty and is interested in all aspects of the female reproductive system. "I enjoy working with women on all challenging issues they face throughout life - from family planning, infertility, pregnancy and childbirth to surgery and menopause."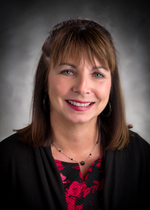 Janet Dehoux, NP
Janet Dehoux, NP graduated from Medical College of Virginia. She is a Certified Adult Nurse Practitioner and Certified Gerontological Nurse Practitioner.
Janet enjoys the long term relationship with patients that the OBGYN field offers. She finds it a joy to help a woman through all stages of her life, from teenage years to childbearing to menopause and beyond. Janet's patients find that she listens attentively and identifies with them, as a woman who goes through the same things.
Because she feels strongly that her patients deserve a provider that is prepared, Janet reviews her patient list the day before and the morning of their visits. She strives to make sure they know that she cares about them holistically-mind, body and soul.
Janet offers comprehensive prenatal care with continuity, as well menopause management. She also specializes in adolescent health, including contraception, STD counseling and HPV vaccinations. She is experienced in the management of abnormal bleeding and endometrial biopsies, in addition to a wide range of contraception solutions including insertion of Mirena, Skyla and ParaGard IUDs and the Nexplanon implant.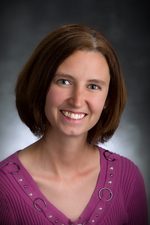 Maya Tyler, NP
A board-certified Women's Health Nurse Practitioner, Maya earned her Bachelor of Science in nursing from Old Dominion University, and her Master of Science in nursing from Virginia Commonwealth University.
Maya has always wanted to work in women's health care, believing that women need more providers who take the time to listen and meet their multifaceted medical needs. She strives to be that kind of provider for her patients.
With specialties in contraception, IUD and Nexplanon insertion and removals, pregnancy and postpartum care, preconception planning and urodynamic testing for urinary problems, Maya offers comprehensive gynecology and obstetrics care for normal and high-risk patients across the span of life.