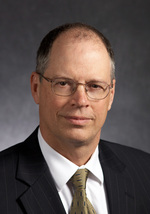 Originally a Pennsylvania native, Dr. Frantz completed his B.S. and M.D. degrees through the highly selective Penn State-Jefferson Medical College Five Year Cooperative Pre-Med/Medical Program. Following graduation, he did a postgraduate year of Internal Medicine at West Virginia University Hospital, then entered active duty in the U.S. Army, serving in the Recruiting Command Surgeon's Office in Hampton, Virginia. He completed his residency in Ophthalmology at Georgetown University, returning to Hampton Roads to join Eye Physicians and Surgeons, Inc., which later became part of Hampton Roads Eye Associates in 1996.
Dr. Frantz practiced comprehensive Ophthalmology for 27 years, with a practice heavily concentrated in cataract removal and lens implant surgery, glaucoma, and diabetic eye care. As a faculty member of Eastern Virginia Medical School, he achieved the rank of Assistant Clinical Professor of Ophthalmology, assisting in the training of medical students, Ophthalmology residents, and Family Practice residents. He retired in 2001, but his love of patient care prompted him to return to part-time practice, limited to medical Ophthalmology.
Dr. Frantz, Board Certified by the American Board of Ophthalmology since 1976, is a Fellow of the American Academy of Ophthalmology, and served as the Academy's Diabetes 2000 chairman. He is also a member of the Virginia Society of Ophthalmology and the Medical Society of Virginia and has served on the Board of Directors of both the VSO and the Peninsula Chapter of the American Diabetes Association.
Dr. Frantz practices at Hampton Roads Eye Associates' Hidenwood location.