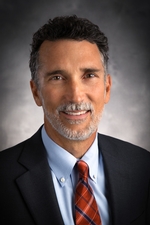 Dr. Cullom graduated from the Vanderbilt University School of Medicine. He completed his Ophthalmology residency at the nationally recognized Wills Eye Hospital in Philadelphia where he researched and published studies on glaucoma and LASER surgery. Dr. Cullom is editor of the Wills Eye Manual; one of the nation's most widely referenced ophthalmic books and is found in many physician offices and urgent care settings.
After residency, he served as Lieutenant Commander in the Department of Ophthalmology at the Naval Medical Center in Portsmouth, Virginia. Dr. Cullom developed Portsmouth's refractive surgery program while attending to patients at the busy general ophthalmic surgical practice. As the primary refractive surgeon, he provided laser refractive surgery to the elite Navy SEAL units.
Dr. Cullom heads the Cullom Eye and Laser Center - a laser vision correction center that is part of our Williamsburg office. He uses the center's state-of-the-art VISX excimer laser to provide LASIK to patients throughout the Hampton Roads region. Dr. Cullom is a Fellow of the American Academy of Ophthalmology, the American Society of Cataract and Refractive Surgery, and is a Diplomate of the American Board of Ophthalmology.
Dr. Cullom practices at Hampton Roads Eye Associates' Oyster Point and Willimaburg locations.