Our Team
Patricia A. Nahormek, MD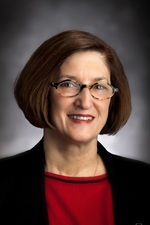 Dr. Nahormek graduated from the Hahnemann University School of Medicine and completed her residency in internal medicine at Baylor College of Medicine in Texas. She continued at Baylor for her fellowship training in cardiovascular diseases. She is certified in both internal medicine and cardiovascular diseases by the American Board of Internal Medicine.
In addition to the full spectrum of cardiac care, Dr. Nahormek offers patients non-invasive diagnostic testing including nuclear cardiology and echocardiography (ECHO), a somogram of the heart.
Dr. Nahormek grew up in Chicopee, Massachusetts. She has been involved in the regional and national medical community for many years. She is a past president of the American Heart Association for the Atlantic Region and received the AHA Distinguished Service Award. In addition, she is a recipient of the Elizabeth Blackwell Award and is a member of the Alpha Omega Alpha Medical Honor Society.