Your Accommodations
Your room assignment at Riverside Walter Reed Hospital is based on your admitting diagnosis, admission status (inpatient, outpatient, observation) and the bed availability on the day of your admission. All patient care units throughout the facility are designed to ensure your individual health needs are met. You may be moved as your condition and health needs change.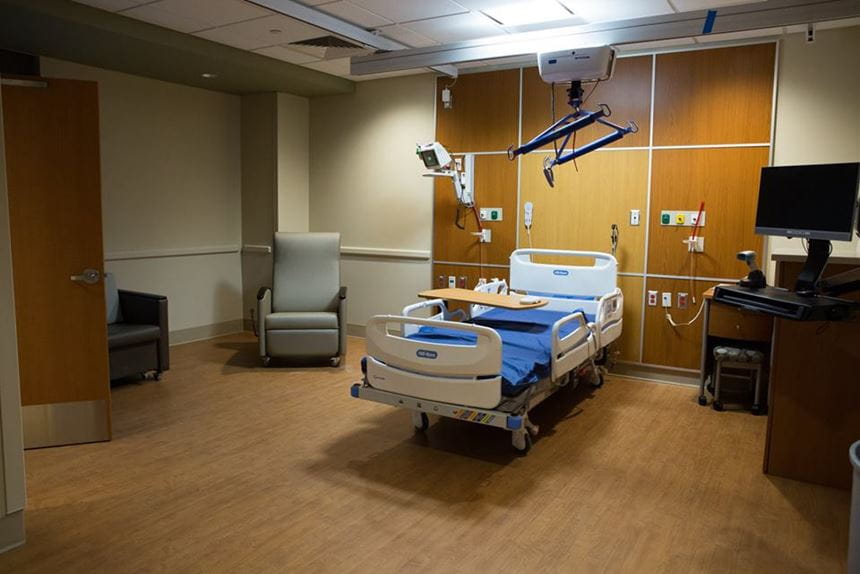 Your Bed
Hospital beds are electronically operated, and your nurse will show you how to work your bed properly. Your hospital bed is generally more narrow than your bed at home. Bed rails are for your protection and may be raised at night or during the day if you're resting, recovering from surgery or taking certain medications. In addition, your bed may be raised by your nurse for treatment purposes. For your safety, please keep your bed in the lowest position when your nurse or other member of your care team are not at your bedside. However, the head of the bed may be raised for your best comfort.
Calling your Nurse
A button to call your nurse is located at your bedside. When you press the button, the nurses' station is alerted that you need assistance, and a light flashes above your door. A staff member will respond to your signal from the nurse's station and ask you questions to determine how he/she can best meet your needs. Should you be unable to speak or express your needs, the appropriate staff member will automatically respond to your room.
Television
Television sets are provided in each room. Please be considerate of other patients by playing television sets softly and by turning off your set when you are ready to go to sleep.
Telephones
Telephones are provided in each room. Local calls may be made at any time from the room by dialing 9 and the number. (Some numbers will require 9-804-###-####, even if a local call). To make a long distance call, dial 0, and the hospital operator will assist you.
Patient rooms may be dialed directly. Your specific phone number is posted on the Patient Care Board located in your room. You may call the hospital operator by dialing 0 at any time for assistance.
Overnight Accommodations for Families
On occasion, family members may stay overnight with hospitalized patients. Please notify the nurse if a family member will be staying overnight.
For out of town family or visitors, we recommend the Hampton Inn Gloucester at 804-693-9393 or the Quality Inn Gloucester at 804-695-1900 for lodging. When you call, please mention that you are here visiting a patient for special discount offers at both locations.
A Note to Family Members, Significant Others and Visitors
At Riverside Walter Reed Hospital we consider you our partners in the care of your loved one. You know them best and may recognize subtle changes in them that we may not see. Please, if at any time you have a concern, speak up and let a member of the care team know. Sometimes, those little changes if recognized early enough can make a difference in your loved one's recovery.
Medication
All medications you take while in the hospital are prescribed by your doctor, dispensed by the hospital pharmacy and administered by a nurse. For safety reasons, patients are not permitted to administer their own medications or keep personal medications at their bedside.
Your nurse will work with you to develop an accurate list of the medications you take at home. Your doctor will then be able to review them when ordering medications during your hospitalization.
While you are in the hospital, your medications may be given at different times than you take them at home. In an effort to accommodate meals and treatment schedules, we normally use standard times for medications to be given. If you are concerned that you are not receiving your medications properly, we encourage you to discuss this with your nurse or physician.
Your stay will be categorized as either an inpatient admission or an observation stay. Note - If you are in observation or outpatient status your medications may not be covered by your insurance. Please refer to your insurance company's billing practices.
Pain Management
Some people think that severe pain is something they have to bear. With current treatments that is no longer true. Today you can work with your doctors and nurses to relieve pain.
When your pain is controlled, you can:
Heal faster
Walk and do your breathing exercises more easily
Feel better sooner
Reduce unnecessary complications such as pneumonia and blood clots
A health care professional will ask you to rate your pain on a scale of 0-10. Please rate your pain honestly. You are the only one who knows how much pain you are feeling.
Understand that there are many ways to control pain. You should talk with your doctor and nurse about which method would be best for controlling your pain.

Food and Nutrition
Your meal will include a menu with wholesome, nourishing and well-balanced choices. Meals are an important part of your treatment and recovery. Riverside Walter Reed Hospital Food Services Department makes every effort to provide nutritious meals that are prepared according to your doctor's orders. A hostess will visit your room twice a day to take your meal orders. The hostess will be able to assist you in making meal choices based on your prescribed diet. Patients are served breakfast between 8 and 10 a.m., lunch between 12:30 and 2 p.m. and dinner between 5 and 6 p.m. Occasionally your meal may be delayed if you are scheduled for a special test or treatment. Whenever possible, you will be served after your examination or test.
If you are on a special diet prescribed by your doctor, you will receive menus tailored to your specific needs. If a family member or friend wants to eat in your room with you, the person may go to the cafeteria, buy a meal and take it back to your room.
Cafeteria - The Blossom Café
The cafeteria at Riverside Walter Reed Hospital is open Monday - Friday from 8:30 until 9 a.m. for continental breakfast, 11:30 a.m. until 1:30 p.m. for lunch and 5 until 6 p.m. for dinner. On Saturdays and Sundays, the cafeteria is open from 11:45 a.m. until 1:15 p.m. for lunch only. Visitors are welcome to eat in the cafeteria.
Vending Machines
Vending machines are available within the hospital 24 hours a day. Please check with a member of your care team for the location closest to you.
Many hospitals across the country are working to make health care safety a priority. Here at Walter Reed we take the security of our patients, their families and guests very seriously. We encourage our patients to be active participants in their healthcare through the use of the Speak Up™ program.
S peak up if you have any questions or concerns, and if you don't understand, ask again.
P ay attention to the care you are receiving. Ask questions when you don't understand.
E ducate yourself about your diagnosis, medical tests, and your plan of care.
A sk a trusted family member or friend to be with you if you are unable to ask questions for yourself.
K now what medications you take.
U se a health care organization that has undergone rigorous on-site evaluations.
P articipate in decisions about your treatment. You are the center of your health care team.
Infection Prevention
Avoid contagious diseases such as the common cold, strep throat, and the flu. This is important to everyone. Here are several easy tips to fight the spread of infection:
Keep your hands clean.
Make sure health care providers clean their hands and/or wear gloves.
Cover your mouth when you cough or sneeze. If you are sick, avoid contact with others.
Get shots to avoid disease and fight the spread of infection.
Smoking Policy
Riverside Walter Reed Hospital is committed to promoting health for our patients, visitors and employees. In support of this goal, the entire campus is tobacco-free. Tobacco use is not allowed in any building, parking area or any of the surrounding grounds. Tobacco products are defined as cigarettes, cigars, pipe tobacco, and all smokeless tobacco such as "electronic cigarettes," chewing tobacco and snuff. We give information on how to quit smoking to any patient on request. Physicians have the option to offer nicotine replacement therapy to patients. Thank you for not using tobacco products while you are here.
Wheelchairs
Wheelchairs are available on all nursing units. To keep you safe, please ask for help from a member of the hospital staff before you get in or out of a wheelchair.
Fire Drills
For your protection, the hospital conducts fire and disaster drills regularly. If a drill occurs while you are here, please remain in your room and do not become alarmed. The hospital is required to meet Life Safety goals and these drills are part of staff training.
Personal or Lost Items
Patients are asked not to bring personal items to the hospital. If you do bring a personal item, it should be deposited in the safe in the Safety and Security Office. You will be given a written receipt for all items, which must be presented when you withdraw them. The hospital does not accept responsibility for personal items unless they are deposited in the safe. If you would like to report a missing item, please contact protection at extension 599. The protection officers hold any lost and found items for thirty days.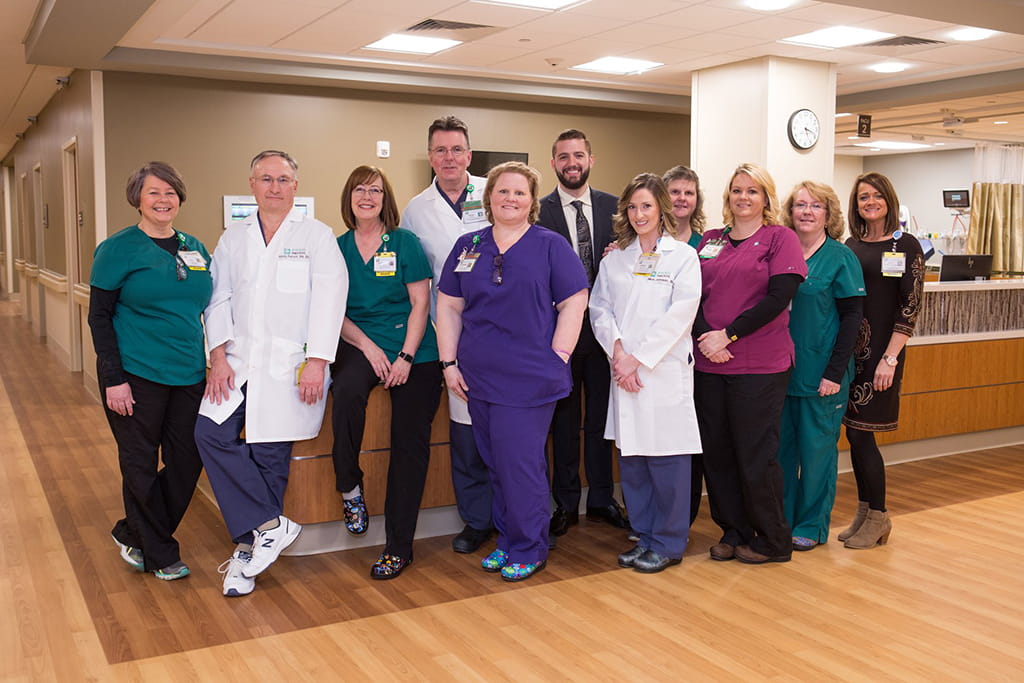 The Hospital Team
During your stay you will have a health care team dedicated to providing you with the best quality care for your personal health needs. Your health care team consists of hospitalist team members, nursing staff, clinical team members, care management and others who specialize in your condition.
In addition, an important part of providing you with safe, quality care and services is purposeful hourly rounding. You will be visited by one of your health care team members every hour from 8 to 9 p.m. and every two hours from 9 p.m. to 8 a.m. During this time we will be checking on you and your well-being, monitoring your comfort and pain levels, reducing noise levels in and around your room and assisting you with trips to the bathroom as necessary. We strive to anticipate your personal needs and to monitor your well-being on an active, hourly basis so that your family and visitors can focus on your recovery.
Hospitalist
A hospitalist is a health care provider who specializes in caring for patients during an inpatient hospital stay and addressing their unique condition. Each patient is cared for by the hospitalist team consisting of physicians and nurse practitioners. Together, the hospitalist team provides on-site, 24-hour inpatient care at Riverside Walter Reed Hospital.
At discharge, the hospitalist will coordinate your care with your primary care doctor to ensure a seamless transition back to outpatient care.
Nursing Staff
A team of registered nurses, licensed practical nurses, charge nurses and certified nurse assistants provide twenty-four hour nursing care. A nurse manager is responsible for coordinating nursing care on each unit. Please feel free to contact the nurse manager if you have questions or concerns. Each unit is also supported by a director who can further assist you if you feel your concerns are not resolved.
Clinical Team
During your stay other healthcare professionals including laboratory, pharmacy, physical, speech and/or occupational therapy, radiology, dietitians and respiratory may assist you based on your clinical needs.
Care Management
The purpose of Care Management is to work with the patient, their family, physician(s) and other health care resource staff to plan, coordinate, evaluate and implement the options and services required to meet the patient's health needs. Care Managers are assigned to each patient care area and are trained to help patients and family members with financial, social and emotional issues that relate to illness or hospitalization. They work with patients and families to help deal with long-term illnesses and rehabilitation and are involved in transitioning patients to their next level of care.
We also have a social worker on staff to aid in the transition of patients and in identifying the appropriate discharge services that suit our patients and their families. The social worker works closely with the care managers to establish an appropriate plan of care on a daily basis. Our Care Management team is here to assist you with many of the most pressing issues during your stay.
Pastoral Services
We believe that total patient care demands attention to the spiritual, as well as the physical and emotional needs of each patient. Members of the Pastoral Services team are available to assist you, whatever your religious preference. Please let your nurse know if you would like a visit from our pastoral team. Your personal priest, minister, rabbi or spiritual leader is always welcome to visit you during your stay.
Dietitians
The inpatient dietitian at Riverside Walter Reed Hospital plays an important role in the health care team by providing nutritional care to patients in various disease states and conditions. Poor nutrition in a hospital setting can lead to slow healing and recovery and may extend hospital stays.
Clinical dietitians monitor, assess, and optimize nutrition status based on the patient's current medical condition and/or nutrition adequacy. They work with physicians and other health care professionals to coordinate medical and nutritional needs, and they make recommendations for tube and intravenous feedings and/or dietary supplements. Clinical dietitians teach patients how to make nutritionally sound food choices to speed the recovery process, prevent disease and maintain a healthy lifestyle.
Housekeepers
A member of the environmental services staff cleans your room daily. If there is a housekeeping problem in your room, please tell your nurse, and it will be taken care of as soon as possible.
Volunteers
Volunteers contribute many hours of service to the hospital. They supplement the services of the hospital staff in many ways and can be identified by their name tags. If you are interested in becoming a volunteer, we welcome volunteer applications. For more information regarding volunteering, contact Human Resources at 804-693-8877.
Additional Personnel
The Riverside Walter Reed family includes many behind-the-scenes workers, including maintenance, accounting, information systems, clerical, human resources and others who contribute greatly toward your well-being during your stay.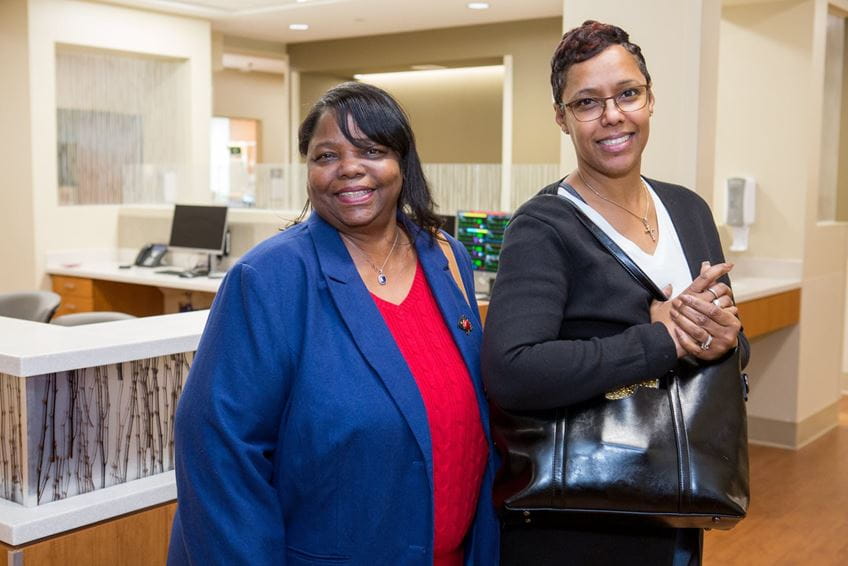 Family and Friends
Visiting Hours
Visitors can be good medicine for patients. Family members and friends are welcome to visit. However, patient care is our primary concern at Riverside Walter Reed Hospital, and in order to enhance the quality of care, specific visiting hours have been established. Unless restrictions are in place, general visitation hours begin at 8 a.m. and end at 9 p.m. Arrangements can be made for after-hours visitation. If you need additional information, please check with your nurse.
Visiting Regulations
The following are general guidelines for visiting patients:
Visitors may not smoke or use any type of smokeless tobacco product in patient rooms or anywhere in the hospital or on hospital grounds. Visitors must dress appropriately and must wear shirts and shoes. We recommend no more than two visitors at the bedside at one time. Always be considerate of other patients. People with colds, sore throats or any contagious diseases should not visit patients. Visitors should maintain a quiet environment and avoid unnecessary noise. Visitors may be asked to leave the room during tests or treatments or when the doctor or nurse needs to see the patient.
Chapel
Our facility has a meditation chapel available for patients, families and visitors. All faiths are welcome to visit the chapel for worship, prayer and/or quiet reflection. The chapel is in the patient corridor next to the J. Doswell Dutton Family Care Center.
Parking
Parking for patients and visitors is available 24/7. All parking at Riverside Walter Reed Hospital is free. Patients and visitors are cautioned not to park in reserved areas or certain designated areas. Please be sure to lock your car. If something happens which causes you to need assistance with your vehicle, please call the Security Department at extension 599 or 804-695-8599.
Waiting Areas
There are designated waiting areas for family and visitors throughout the hospital. The J. Doswell Dutton Family Care Center is available to those whose family members are in the Intensive Care Unit or are here for an extended length of stay. Please let a volunteer or staff know if we can assist you with anything during your time with us.

Additional Services
Ethics Committee
There may be a time when you are called on to make a decision about health care for yourself or for a loved one. This can often be a confusing, frightening, or painful responsibility. Increased understanding among patients, families and healthcare providers may lessen your fears and help relieve the burden that such difficult decision-making may cause. Riverside Walter Reed Hospital has an Ethics Committee to help you in such circumstances.
The Ethics Committee is a group of people who are prepared to listen and respond to your questions and concerns. They can provide the facts you need to make a decision, and they can offer feedback and suggestions. They will never give you the final answer or tell you what you must do;however, they have been educated in medical ethics and bring their ideas together to offer you assistance. To get in touch with the Ethics Committee please call extension 810.
Interpreters
The hospital has access to interpreters for a number of foreign languages. If interpreter services are needed, please ask your nurse.
Flowers or Gifts for Patients
Volunteers deliver flowers received at the front desk to patient rooms. Visitors should check with the nurse before bringing gifts of food or drink to patients. In the Intensive Care Unit, please check with a member of your care team prior to any delivery.
Mail and Web Wishes
Volunteers deliver letters and packages for patients each morning. Letters and parcels that arrive after you have been discharged are forwarded to your home. Web Wishes are received by the hospital receptionist, printed and delivered to patients. Visit the Web Wish page on the Riverside website to submit your wish.
Newspapers
Local newspapers are available for purchase at the front of the hospital.
Gift Shop
As our shop is staffed by volunteers, the hours may vary dependent on volunteer availability. Current hours are posted outside the shop. The gift shop offers items such as magazines, greeting cards, candy, toiletries, flowers and other seasonal items.
For the Hearing Impaired
A telecommunications device is available to help hearing-impaired patients or patients who want to communicate with a hearing-impaired relative or friend. Arrangements can also be made to have a person who uses sign language help a hearing-impaired or deaf patient.
Hospital Bills and Insurance
All patients should familiarize themselves with the terms of their insurance coverage. This will help you understand the hospital's billing procedures and charges. You are asked for a copy of your identification card and other relevant insurance information to ensure claims are processed accurately.
If You Are Covered by Medicare/Medicaid
Medicare
We will need a copy of your Medicare card to verify eligibility and process your Medicare claim. You should be aware that the Medicare program specifically excludes payment for certain items and services, such as cosmetic surgery, some oral surgery procedures, telemedicine consultations, personal comfort items, hearing evaluations and others. Deductibles and co-payments are the responsibility of the patient. If you are in observation or outpatient status your medications may not be covered by your insurance. Please refer to your insurance company's billing practices.
Your stay as a Medicare patient may be billed under your inpatient benefits (Part A) or under your outpatient benefits (Part B). For more information, please refer to your Medicare Billing Practices sheet in your admission packet.
Medicaid
We will need a copy of your Medicaid card. Medicaid also has payment limitations on a number of services and items.
If You Do Not Have Insurance
A hospital representative from Insurance Verification or the Financial Counseling office is available and may coordinate with Chamberlin Edmunds to assist you in applying for Medicaid or other government assistance programs. If you do not qualify for assistance, our Financial Counselor or Patient Accounting will discuss financial arrangements with you.
Your Hospital Bill
The hospital is responsible for submitting bills to your insurance company and will do everything possible to expedite your claim. Please remember that your policy is a contract between you and your insurance company and you have the final responsibility for payment of your hospital bill. We have several payment options available to assist you, should you need them.
Your bill reflects all of the services you received during your stay. If you have certain tests or treatments in the hospital, you may also receive bills from physicians you did not see in person. These bills are for professional services rendered by these doctors in diagnosing and interpreting test results while you were a patient. Pathologists, radiologists, cardiologists, anesthesiologists and other specialists perform these services and are required to submit separate bills. If you have questions about these bills, please call the number printed on the statement you received from them.
Going Home
Discharge Instructions
When your doctor decides you are ready to leave the hospital, a discharge order will be written. You may want to make arrangements with a family member or friend to help when it is time to go home. Your doctor, your nurse and your care manager will coordinate your discharge. You will be given instructions about post-hospital care to include diet, activities, medications, test results or other matters. If you are unsure about your discharge instructions at any time, please be sure to ask.
Personal Belongings
Collect all of your belongings and double-check closets and drawers. If you have anything stored in the hospital safe, make your nurse aware and security will be contacted to deliver your personal items.
Post-Hospitalization Care
There are occasions when patients need additional treatment or care after they are discharged from the hospital.
Skilled Nursing Unit
This type of unit is designed for patients who no longer require acute care in a hospital but who need additional short-term care before discharge. Rehabilitation and specialized nursing care are emphasized.
Home Health Care
We have a full service Medicare-certified home care agency, which supplies nurses/nurse aides, medical social workers and therapists for care at home. Private duty nurses, nurse aides and adult sitter services for discharged patients are also available through Riverside Home Care Services.
Standards for Privacy/Patient Rights and Responsibilities
Patient Rights, Visitation, Responsibilities and Communications
Riverside's Commitment To You
All patients have the right:
To know by name the physicians, nurses and other providers responsible for coordinating and providing your care and to speak freely with your caregiver.
To hear from your primary physician, in language that you can understand and prefer, your diagnosis, the treatment prescribed for you and the prognosis of your illness. When your physician determines that it is not medically advisable to give such information to you, the information should be available to an appropriate person on your behalf.
To be able to access interpretation and translation services in support of your care.
To know the reason why you are given various tests or treatments and who the persons are who give them to you.
To considerate care that respects your personal values and cultural, religious, and ethical beliefs.
To know the general nature and inherent risk of any procedure or treatment that is prescribed for you.
To change your mind about any procedure for which you have given your consent, provided that you let your physician know of your decision before you have been medicated.
To refuse to sign a consent form if you do not feel that everything has been satisfactorily explained to you.
To cross out any part of the consent form that you do not want applied to your care. To refuse treatment to the extent permitted by law and to be informed of the medical consequences of this action. To request that a person of the same sex be present during an examination by someone of the opposite sex.
To be provided with an explanation of your visitation rights and any clinical limitations on such rights, including the reason for limitations. To be ensured that visitors enjoy full and equal visitation privileges consistent with your preferences and reasonable clinical/operational limitations.
To be assured visitation privileges will not be restricted on the basis of age, race, ethnicity, national origin, culture, language, physical or mental disability, socioeconomic status, religion, sex, gender identity or expression or sexual orientation.
To have your, or your legal decision maker's requests for receiving visitors of your choosing and to also refuse visitors or withdraw consent to see visitors of your choosing at any time.
To expect that your personal privacy, medical record and confidentiality will be respected to the fullest extent consistent with the treatment prescribed for you and in accordance with legal requirements.
To request, either directly or through your own physician, a consultation from another or additional physicians, if you so desire. To change physicians and change hospitals. To examine your bill and receive an explanation of it.
To refuse to participate in medical training programs or research projects.
To be offered the opportunity to complete an Advance Directive describing what kinds of care you would like if you become incapacitated and to name the person who would make decisions for you.
To receive assistance in completing the Advance Directive if requested, and to rescind it at any time.
To participate in the consideration of ethical issues that arises in your care.
To impartial access to healthcare services without regard to age, race, ethnicity, national origin, culture, language, physical or mental disability, socioeconomic status, religion, sex, gender identity or expression or sexual orientation.
To appropriate assessment and management of pain.
To be free from seclusion and restraint, of any form, that is not medically necessary.
To receive care in a safe setting that is free from all forms of physical or mental abuse, exploitation and neglect.
To access information contained within your medical record within a reasonable time frame.
To voice complaints or recommend changes freely without being subject to coercion, discrimination, reprisal or unreasonable interruption of care.
Standards for Privacy of Protected Health Information
According to the federal law named the "Health Insurance Portability and Accountability Act" (HIPAA), you have rights concerning the use of individually identifiable health information. Only individuals with a legitimate "need to know" may access, use or disclose patient information. Protected health information may be released to other covered healthcare providers without patient authorization if used for treatment, payment, healthcare operations, or for public good purposes as permitted by state and federal laws. Patient authorization is required for disclosures of protected health information for uses and disclosures outside treatment, payment and healthcare operations.
While receiving care in the hospital, you may request that no public acknowledgement of your stay is made. This means that anyone asking for you will be told "I have no information about this person." For a listing of other HIPAA privacy rights, please refer to the Notice of Privacy Practices.
Living Wills and Health Care Power of Attorney
If you are 18 years of age or older and mentally competent, you have the right to make decisions about your medical treatment. If you want to control decisions about your health care, even if you are unable to make or express them yourself, you will need an Advance Directive. An Advance Directive is a set of instructions you give about the health care you want, in the event you lose the ability to make decisions for yourself. There are three kinds of Advance Directives: a Living Will, a Healthcare Power of Attorney, and Advance Instructions for Mental Health Treatment. Patients being admitted to inpatient care are asked if they have an Advance Directive, and if not, materials are presented for patient and family consideration and completion, if desired.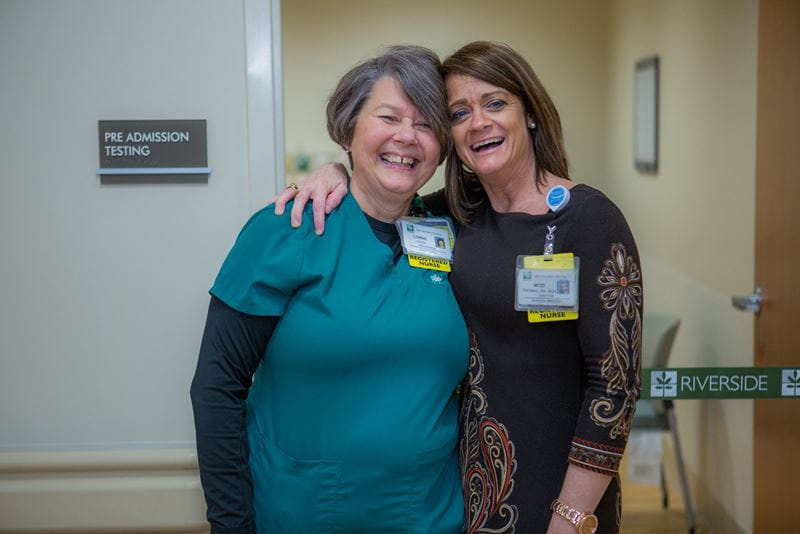 Tell Us What You Think
Our sincere goal is to provide the very best care and highest quality services to you and your family. We hope that in providing care, we exceed your expectations. Your opinion is valued and essential to our mission. We have established various methods for communicating your experience as well as expressing any concerns you may have.
If You Have a Question or Concern
The medical staff and the employees of Riverside Walter Reed Hospital seek to treat our patients with fairness and concern, recognizing their needs and satisfying them to the extent possible. The Patient Relations Department was established for you, the patient. If you have any questions or problems that have not been answered to your satisfaction or if you have a special need, call the Caring Connection Hotline at extension 345.
Other Ways of Communicating Your Experience
The Caring Connection – A special hospital telephone line called the Caring Connection is dedicated entirely to your compliments, comments and concerns. To access the line, please call extension 345.
Champion of Caring Program – Our goal is to provide you with excellent service. If there is someone you would like to recognize for exceeding your service and care expectations, please complete a Care Difference Nomination Card located in your room. If you need additional forms please ask a member of your personal care team. For more information visit us online at www.riversideonline.com and click on Contact Us.
Patient Satisfaction Survey – You may receive a patient satisfaction survey by mail after discharge from the hospital. Please take the time to complete and return the survey.
The Riverside Care Difference
The Riverside Care Difference is the way in which we deliver care and services – as a team – by putting our customer at the heart of all we do by continually striving to exceed their expectations.
Keep Me Safe, Help Heal Me, Be Kind to Me, Respect My Wishes