Joyce Kinlock imagined living in Warwick Forest long before she finally arrived. And when she got there she wasn't disappointed.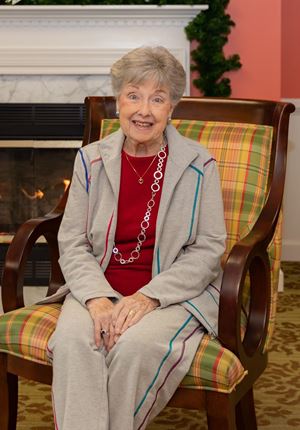 The old U.S. Navy recruitment slogan – Join the Navy and See the World –holds a special meaning in Joyce's life and memories. She didn't join the Navy, but her husband did. And while she didn't exactly see the world, at least not yet, she did experience life in a variety of locations during the early and mid-1950s as the young couple re-located from one naval base or shipyard to another. First there was Long Beach, California. Then Bremerton, Washington, and after that Philadelphia, where the first of her two children was born. Joyce and her family later lived in Pittsfield, Massachusetts, when her husband took a job with General Electric. During this time, as Joyce raised her family and moved several times more, she found that her college degree in home economics was put to good use on a personal level.
Eventually, they made their way to Newport News, and Joyce has lived in the area ever since.
Although she's a relatively new resident, Joyce's familiarity with the Warwick Forest community goes back quite a few years earlier. "When Warwick Forest first opened I visited several times and found the campus very appealing. At the time, a retirement community wasn't in the plans. But I always kept the possibility of being here in the back of my mind. That first, positive impression stayed with me over the years."
Joyce considers that the first step in her move to an assisted living neighborhood at Warwick Forest began In January of 2018 when she broke her leg after a fall in her Kiln Creek home. "It's the same leg where I had a knee replacement several years ago. I was hospitalized at first, then spent some time in rehab and followed that up with physical therapy. Because of the mobility problems I had it was impossible to remain at home without any help. It was time to acknowledge I needed some help and the people at Warwick Forest did a good job in making it a smooth transition."
Joyce's mobility has improved some over time, but she still needs help with a number of daily tasks. "The good news is, I can get around well enough to take part in certain activities on the Warwick Forest campus. I also enjoy taking some trips from time to time. Plus I have friends in the independent living part of the community as well as new friends in assisted living. I can basically be as busy as I want, so it's never boring."
"It's kind of ironic that I thought about living here years ago. Now that it's actually happened, now that a part of my past and my present have come together, I can say that it's all worked out rather well."
Have Questions? Contact us for more information.
Contact Us