"This community keeps me young!"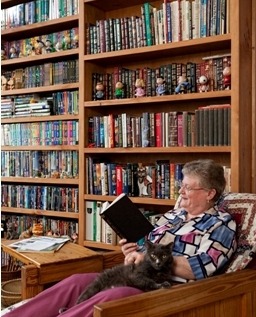 You could ask Nathalie "Dee" Perkins herself why she chose the retirement community lifestyle. But you'd have to catch her first. Most of her days begin at 4:30 a.m. feeding her two cats, Charlie Brown ("named after the song, not the cartoon," she notes) and Lady. Then she's either taking a swimming class or teaching one; she recently became a Certified Water Fitness Instructor. Depending on the day, Dee might be working away at her computer completing a proposal for her consulting business. Or she might be attending board meetings at her church and previous townhome community. She serves as treasurer on both committees.
Dee was attracted to Warwick Forest's amenity-filled, active lifestyle and, though she still works full time, she was unofficially researching retirement communities for several months. A knee injury prompted her to take the transition seriously. The stairs in her previous townhome were presenting a dangerous inconvenience: "The two-step I was doing to get up the stairs wasn't working," she admits jokingly. While Dee considered her options, she thought about moving closer to family in Northern Virginia. But then she ultimately chose Warwick Forest, with all the health services she'd need on one expansive campus.
A self proclaimed wanderer—she grew up in Richmond and has lived in Connecticut, Arkansas and South Carolina--Dee certainly wasn't ready to sit back and "retire from life." When she chose to move to an Independent Living apartment at the Warwick Forest Retirement Community in Newport News, she said she was honest from the start. "I walked in and said, 'Let me explain, I don't play bridge.'" While this warded off any potential bridge partner requests, Dee says that Warwick Forest never really seemed like a "normal" retirement community, at least not compared to her perception.
"The people are very active," she adds. "I have the freedom to come and go as I please." Dee believes this freedom enhanced her already independent lifestyle. "[This community] keeps me young. It keeps me going."
In fact, the freedom and independence to maintain her own schedule is Dee's favorite part of living at Warwick Forest. Well, that and the breakfast. After having nearly a full day before the rest of us wake up, Dee says by the time she heads to breakfast, she's ravenous. "It's my favorite meal of the day!" she says excitedly.
When Dee isn't consulting on government proposals, swimming laps or scolding Charlie Brown, she knows there will be plenty of other activities to keep her busy. "When I'm not working, there are 101 other things to do [at Warwick Forest]," she says.