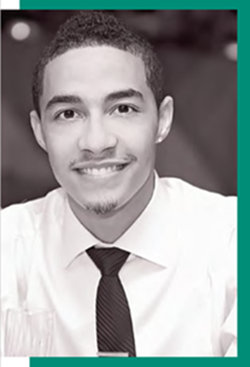 In June 2017 the world lost a dedicated doctor, a talented entertainer, but above all, a friend who was like family to us all.
The life of Dr. Brandon D. Rogers, a Family Medicine resident at Riverside Brentwood Medical Center, was tragically cut short, but the legacy of his commitment to medicine, education, arts, and the community will be carried on.
Brandon's musical talents first drew national attention from the 90's hit group, Boyz II Men, after he posted a video of himself singing one of their songs. An offer to join them on stage at the Mirage Hotel in Las Vegas in early 2017 soon followed, and his performance earned him an invitation to audition on NBC's America's Got Talent (AGT).
"My inspiration for becoming a doctor was kind of born out of a pretty tough experience when I was about six years old," Brandon recalled during a March 2017 interview with AGT. One afternoon, he arrived home from school to find his mother in need of emergency medical treatment. "The doctors were like heroes. They saved her life and it made me want to be the doctor I am today."
The Riverside Simulation Training Lab holds the promise to advance both the science and the art of medicine while also supporting Riverside's mission to care for others as we would care for those we love. The lab will provide innovative, life-saving training to medical professionals just like Brandon.
Continuing the Work
As a means of honoring the goals and mission Dr. Rogers pursued, the Rogers family has partnered with the Riverside Foundation to establish the Dr. Brandon D. Rogers Memorial Fund.
This special philanthropic opportunity was created to nurture the continuing education of new doctors in Riverside's physician residency programs, as well as nurses, health career students, and clinical staff, who practice and train at Riverside Regional Medical Center in Newport News, Virginia.
For more information about how you can help bring this valuable resource to our community, please contact the Riverside Foundation at 757-234-8740.