---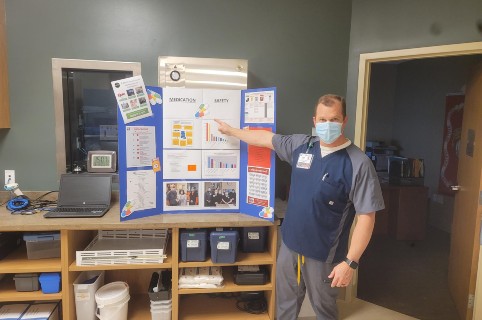 RSMH Pharmacy
David Hobbs, Director of Pharmacy
---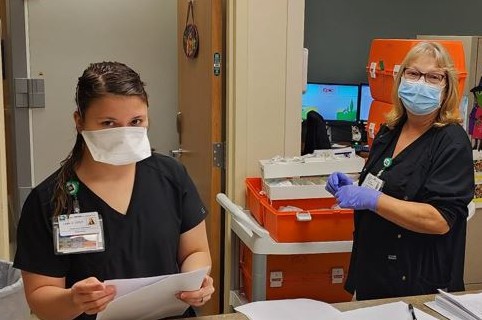 RSMH Pharmacy Techs
Leah Vargas and Tina Brittingham
---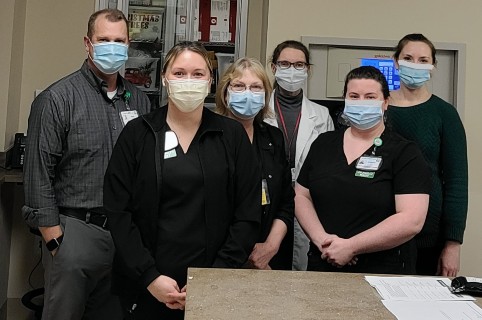 RSMH Pharmacy Team
David Hobbs, Director of Pharmacy, Ashley Padgett, Pharmacy Tech, Tina Brittingham, Pharmacy Tech, Lynette Patterson, Pharmacist, Christina Sharpe, Pharmacy Tech, Sarah Butler, Pharmacist
---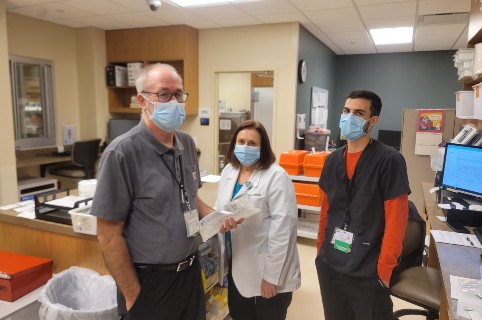 RSMH Pharmacists
John Patterson, Patricia Brady, and Chad Harte
---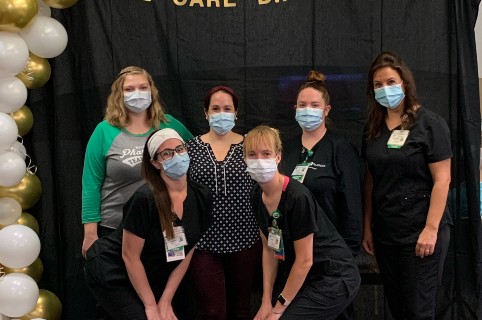 RDHW Pharmacy Team
Erika Senterfit, Ourania Greenhow, Lindsay Perkinson, Rachel Barts, Caitlin Fischbach and Anastasia Krisik,
---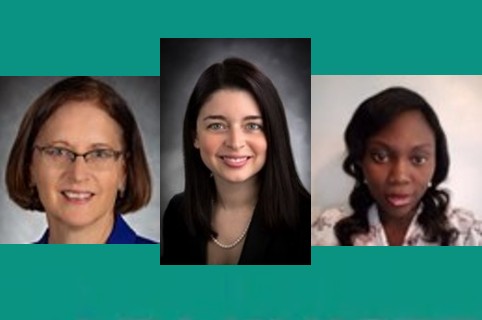 Women Pharmacist Day, October 12th - Executive Pharmacy Leadership Spotlights
Cindy Williams, Chief Pharmacy Officer, Kathy Koehl, System Director for Pharmacy Clinical Services, and Kemi Olatunji, System Director for Acute Care Pharmacy Services.

On Women Pharmacist Day, we celebrate three influential pharmacist leaders following in the footsteps of Dr. Gloria Niemeyer Francke, the first CEO of the American Society of Health-System Pharmacists (who this day honors because of her advancements in pharmacy practice and improved patient outcomes). They have individually and collectively contributed to pharmacy practice advancement through participation in local and national pharmacy organizations, community health events, creation of a pharmacy technician ladder and recently leading the COVID-19 vaccination response. Riverside Health System benefits from their expertise as evidenced by development and promotion of clinical and operational pharmacy services contributing to the patient-centered Riverside Care Difference the pharmacy service lines provide daily.
---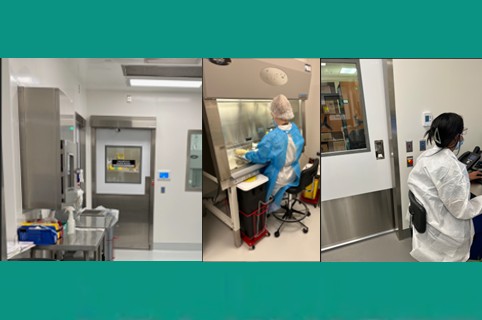 Sterile Compounding Spotlight
Hazardous Compounding Room, Technician Specialist Ashtyn White, IV room Pharmacist Diana Gregory

Happy Pharmacy Week! Did you know that the inpatient pharmacy has a clean room where your patient's sterile products are individually prepared by highly trained pharmacy technicians and pharmacists? This newly renovated space requires specific garbing, cleaning, and disinfection procedures to prevent bacterial growth and maintain safety for patients receiving medications.
---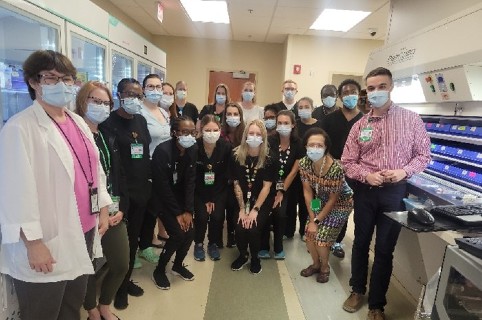 National Pharmacy Technician Day
It's National Pharmacy Technician Day! Pharmacy technicians provide invaluable contributions to patient health, safety and are an integral part of our health care team. Pharmacy technicians are typically found delivering much needed medications throughout the hospital, keeping our drug supply intact, ensuring our automated dispensing machines are functioning, or helping troubleshoot medication discrepancies. We are fortunate to have specialized technicians within our workforce at RRMC who help lead pharmacy enterprise initiatives. Thank you, technicians, for all you do!
---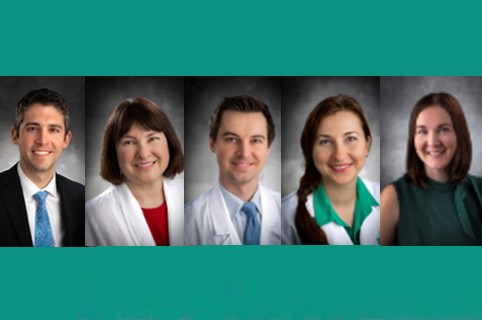 Clinical Specialist Spotlight
Tyler Sledge, Juanita Baer, Anna Donnis, Brad Heidenthal and Kelly Cain

Riverside Regional Medical Center houses several different clinical pharmacy specialties to include oncology, critical care, trauma/neurology, emergency medicine, surgery, internal medicine, cardiology, and sterile compounding. In the last year, resources to support our continued focus on medication safety and antimicrobial stewardship fostered additional health-system specialist positions in those areas. Clinical pharmacy specialists are experts in their field and consistently provide evidence-based quality care to their patients. Thank a clinical specialist on your unit today!
---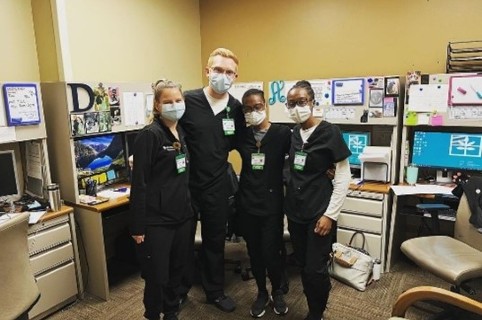 Pharmacy Resident Spotlight
Melissa Progar, Dustin Moon, Ashley Guishard and Alecia Guishard

Pharmacy practice residents are extenders of clinical pharmacy specialists. They are training how to become experts in pharmaceutical care. Riverside Regional Medical Center has four PGY-1 pharmacy residents who rotate with our clinical pharmacy specialists to advance their ability to care for patients.
---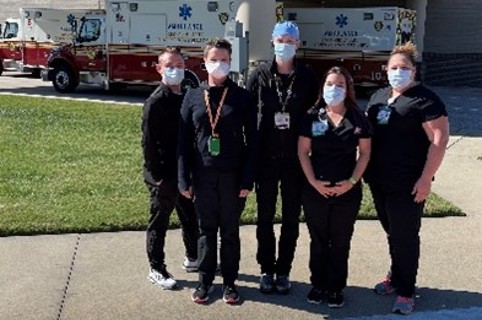 Medication History/ED Pharmacy Team
Jonah Shields, Pharmacy Technician; Robin Lilley, Pharmacy Technician Specialist; Tanya Claiborne, Emergency Medicine Clinical Pharmacy Specialist; Joy Kirby, Pharmacy Technician; Courtney Menia, Pharmacy Technician

Obtaining the best possible medication history is pivotal to medication safety as patients are admitted to RRMC through the emergency department. Our medication history technician team work together to improve patient safety during the admission process.
---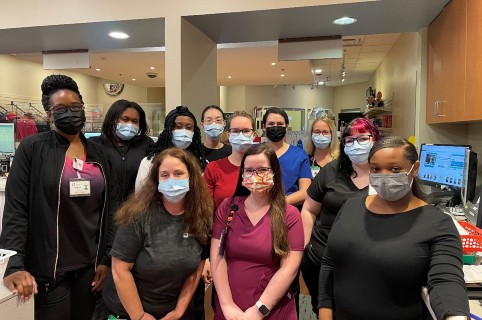 Pavilion Pharmacy Team
Roslyn Monroe, Diane Leonard, Alyssa Belvin, Kyla Davis, Ashley Gore, Caitlyn Short, Jessie Goetz, Brianna Robinson, Chanel White, Waimin Khuu, and Shannon Alston

The Pavilion Pharmacy team comprises of a diverse and unique team of pharmacists and technicians with a wide range of experience, knowledge, skills, academic and professional backgrounds. This amazing team strives daily with great passion, enthusiasm, and commitment to serve the medication needs of our patients, customers, caregivers, and employees. The Pavilion pharmacy team provides a wide range of services such as Meds to Bedside delivery, curbside pickup, Specialty medications processing and delivery, prescription processing for our remote hospice location, medication delivery to other RHS facilities (RSMH, RWRH, RDHW, RBHC) for our patients and employees. We are very honored here are Pavilion Pharmacy to have the greatest opportunity to serve our patients, caregivers, customers, employees and other RHS facilities with their medication needs as we would do for those that we love and care for.

Thank you for trusting Pavilion Pharmacy team to continue providing our patients, customers and employees with their medication needs and services.

---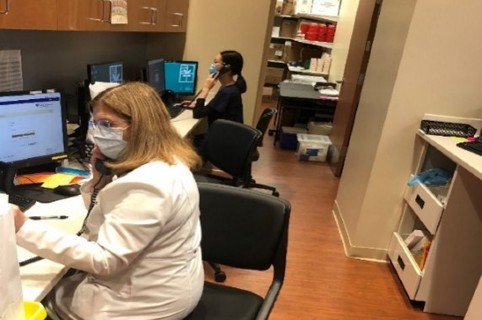 Transition of Care Pharmacists
Debbie Ottarson and Waimin Khuu
---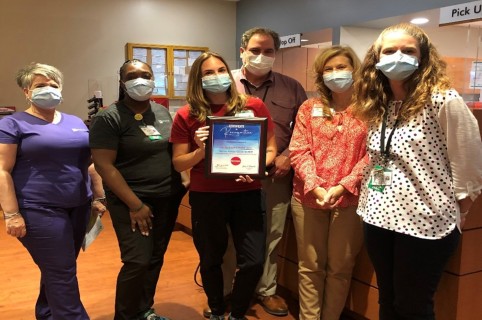 Specialty Pharmacy Team
Recently, the specialty pharmacy team was featured by the National Community Oncology Dispensing Association (NCODA) as a "Practice in Focus" allowing us to highlight our efforts and challenges in delivering cancer care to Riverside patients. Caitlyn Boltik, CPhT, was recognized as a "Technician in Focus" and presented in a monthly webinar explaining how our specialty team helps oncology patients with medication access and overcoming financial barriers to treatment.
---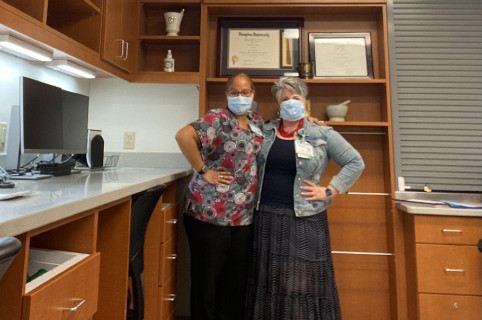 Riverside Pharmacy Chesapeake
Tonya Byrum and Angel Savage

We are pleased to announce the new pharmacy, Riverside Pharmacy Chesapeake, slated to open in November.
---