Our Weight Loss Team
Kunoor Jain-Spangler, M.D.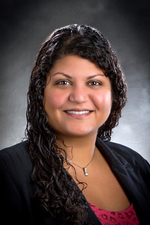 Bariatric Surgeon
Riverside Weight Loss Specialists
Riverside Weight Loss Specialists - Williamsburg
Specializes in laparoscopic bariatric including Roux-en-Y gastric bypass, sleeve gastrectomy, adjustable gastric banding, revisional bariatric surgery and bariatric surgery using DaVinci® robotic surgery.
Michelle Frickanisce, NP

Michelle Frickanisce is a certified nurse practitioner. She earned her bachelor's degree from Virginia Commonwealth University and her master's degree from Old Dominion University. Ms. Frickanisce's role in patients' lives is more than a job. While she enjoys seeing patients reach their weight loss goals, it's their life-changing milestones like no longer needing insulin, blood pressure medication or a wheelchair or walker that provide her with the most satisfaction. She is dedicated to helping patients become active, healthy and fit. In her free time, Ms. Frickanisce enjoys crafting, reading and spending time with her husband and their six children and two grandchildren.

Megan Lindquist, RD
Megan Lindquist is a registered dietitian. She earned her bachelor's degree in Nutrition and Food Science from Drexel University in Philadelphia and is certified in Adult Weight Management through the American Dietetic Association. Ms. Lindquist channeled her own challenges with diet and weight into a desire to learn more about healthy, active lifestyles. This passion grew into a career where she can share her knowledge with others going through the same struggles.
Ms. Lindquist served in the AmeriCorps National Civilian Community Corps, traveling and working with various communities on education, public safety, unmet human needs and environmental concerns. This experience broadened her perspective and also confirmed her decision to become a registered dietitian. She enjoys spending her free time outdoors walking, hiking and stand up paddling. Ms. Lindquist is married with two sons.

Misty Rodkey, RN 

Misty Rodkey is a registered nurse with an associate's degree in nursing. She is currently working towards her bachelor's degree at American Sentinel University. She works primarily in patient triage and has a particular interest in post-operational success, working with patients to help them maintain their weight loss following surgery. Having undergone bariatric surgery herself in 2008, Ms. Rodkey feels a unique connection to patients. Her personal history ignited a passion for nursing and, specifically, working with bariatric patients and helping them feel comfortable and motivated to reach their goals. Ms. Rodkey enjoys kayaking, biking, experimenting in the kitchen and, most of all, spending time with her husband and three children.

Jonathan Felder 

Jonathan Felder is a Certified Personal Trainer through the National Academy of Sports Medicine (NASM) and a Certified Functional Movement Specialist. He is a graduate of Rudford University where he competed as an athlete. Mr. Felder's specialties include weight loss, sports performance and functional movement. His philosophy is to first move well, then move often. Mr. Felder's passion lies in helping others achieve goals they never thought possible. In his spare time he enjoys cooking, fishing, bird watching and spending time with his wife, Dana.
Roxanne Yarina 

Roxanne Yarina earned her bachelor's degree in psychology from East Carolina State University. As the practice manager for Riverside Weight Loss Specialists, she provides non-clinical assistance to providers and patients. Ms. Yarina's work is driven by a belief that you must enjoy what you do and her compassion for others, desiring the positive changes that result when patients improve their health. Originally from Greensboro, North Carolina, Ms. Yarina enjoys spending time with her husband and their two children and grandchild.
---